Baidu SEO is essential to grow your business in China. Why is SEO important if you want to succeed at Baidu? How does the Chinese Search Giant compares to Google?  We will guide you through the basics of Baidu SEO and how you can grow organic traffic to Website in China. 
Achieve higher rankings on your targeted Keywords for your Website or E-commerce in China with Baidu SEO, By increasing your visibility, and convert organic traffic that will results into actual leads – we know how to help you reach new horizons and enter the Chinese market.
In order to scale your growth online in China – you need to become more familiar with Chinese SEO and Baidu. 
If you are already familiar with Google and have been working with SEO before – you will have a slight higher chances of succeeding at SEO in China.  
Baidu vs Google – What is the real difference?
Baidu has similar fundamentals bricks – as they both rely heavily on their algorithm. What stands out for Baidu SEO – is the tailored search offering to a Chinese consumer or visitor. Compared to Google that as a worldwide reach and is very popular not only in the US – but a solid choice  in European countries as well as other parts of the world.
The correct Chinese SEO strategy does require not only technical expertise, nor basic SEO knowledge but also needs to keep in mind the culture difference between the West and China – including different languages, censored internet atmosphere as well as different user patterns.  
Many people have great insights to SEO in general when it comes to optimizing your website for Google. But when it comes to Baidu SEO – there is obviously very little information you can find… At Google, of course… 
ICP License – will improve your rankings on Baidu
China is always watching you from every corner and angle, as the country is highly controlled by the government. Getting an ICP  (Internet Content Publishing License) in China will have a positive effect on your SEO optmization on Baidu. 

How to get an ICP in China? 

The only legitimate way to get an ICP license in China is where you would buy your (.cn) Chinese domain or where you will host your website, at the hosting provider. 
Can anyone get an ICP in China?
No. Only a Chinese registered companies
Do you have to have an ICP for your Chinese website on Baidu?
No. You do not have to have it – Baidu will not block your website – although we do recommend obtaining a license. We can help you do so. 
The Chinese Langauge – one of the most important ranking factor on Baidu
The language in Chinese seems obvious for many – although the official language for Baidu is simplified Chinese. Therefore it is highly recommended to hire a native speaker to help you with your Content on your Chinese website. You must optmize Baidu SEO with flawless content – it must be accurate information and grammatically correct. 
Semantic Search – Better than Google?
An ever hot topic amongst the 2 search giants.Google's knowledge graph vs Box Computing (Baidu). What is better and for whom? And what does this really mean for your Baidu SEO?
Semantic Search is basically the information above the SERP (Search Engine results) you would get out of a search query. That could be a snippet of a link to a video on Iqiyi,  or if you would search for a specific Chinese holiday – you might get a calendar that would match the most relevant info as to when it occurs.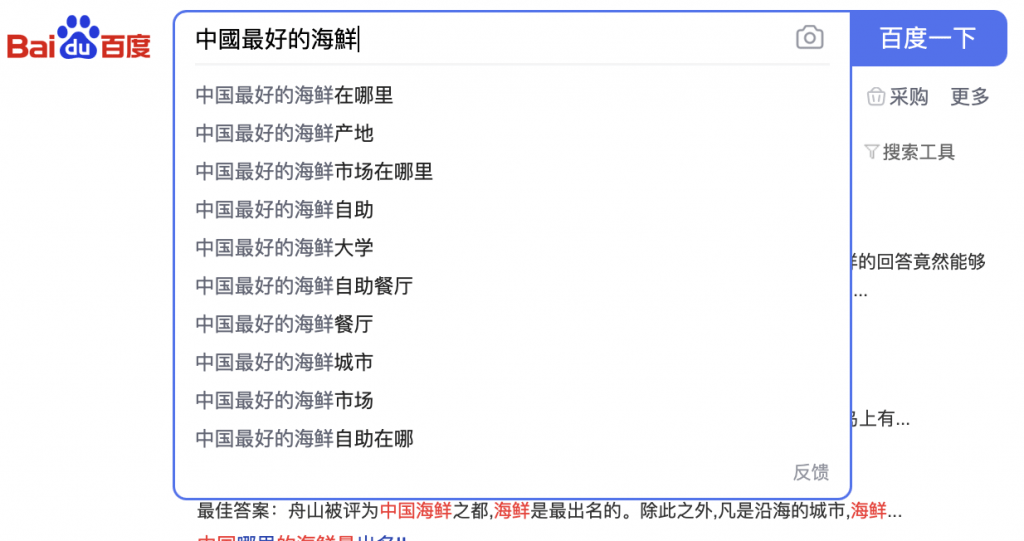 Chinese (.cn) domains + Solid Hosting = NOT a Must Baidu SEO
When it comes to selecting a domain for your Chinese website, a .cn domain is for most Baidu SEO specialists a must. We believe it is as important as getting the ICP or having a solid hosting for your website.
IF we compare it with selecting your domain on Google – you could easily rank high in the SERP with a .com, .net, .org or .edu. It really depends on several factors – so if you do not come over your .cn domain for your brand or search query you are targeted – it is not an issue. Although if you want to stay ahead of intentional competition – we would recommend investing in a .cn domain just because of standing out from your competition. 
Is it easy to buy a .cn domain? 
No. And that is the major reason we do not recommend starting of with getting your Chinese domain. It is easier said than done – and requires a real challenge in terms of admin. 
We Outreach for your needs
We just do not talk...
We deliver Search Results

😉
Grow your traffic with us!
Baidu Search Engine Market Share China
Baidu Search Engine in China is widely popular and represents roughly 70% of the total market share as of April 2021. As we see in the graph to the left – the search engine has been stable for many months and many years. Platforms and Apps like Instagram, Snapchat and other US based technology companies are currently banned in China – therefore the target market share of Baidu is a major opportunity for foreign and international companies to scale their growth online.